Bone cancer specialist in Delhi India | Bone cancer treatment in Delhi India | हड्डी के कैंसर का इलाज
Best bone cancer specialist in Delhi India for treatment of osteosarcoma, ewing sarcoma and all bone cancers in Delhi. Bone cancer treatment with chemotherapy, targeted therapy and bone cancer immunotherapy in Delhi India from ethical, compassionate bone cancer specialist, formerly in AIIMS New Delhi for more than 12 years. Gold Medalist from AIIMS New Delhi for best Medical Oncologist, extensive research experience with international training and awards. More information here

Video on bone cancer (Hindi)
What is bone cancer?
Cancer is a condition characterized by uncontrolled division of cells which are normally controlled by the body. Bone cancer is a cancer which starts in bones. It is a rare cancer and makes less than 1% of all cancers.
Note that cancer that starts from other organs and spreads to bones is not called "bone cancer" but is instead called bone metastases. You can learn more about treatment of bone metastasis at pages of respective cancers such as prostate, lung, breast, kidney, liver, neuroendocrine, colon, multiple myeloma, head and neck etc
Are there different types of bone cancer?
Yes. There are many different types of bone cancer but the most important are:
Osteosarcoma
Ewing sarcoma or PNET
Chondrosarcoma
There are other cancer types but those are much rarer.
What are the symptoms of bone cancer?
Generally bone cancer starts with pain in any limb which does not improve despite treatment.
Later, this pain develops into a swelling which is often hard and fixed.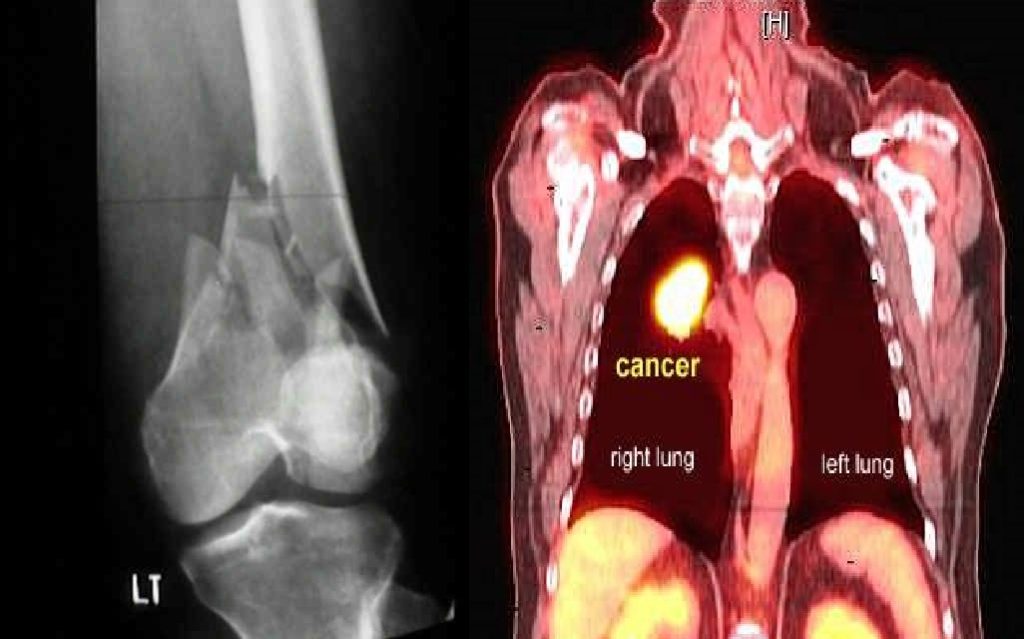 Due to weakness of bone due to cancer, patient may break his bone (fracture) from even minor injury
At this point the patient may find it difficult to move his leg or arm due to pain and swelling
Even later, a mass or lump may form at the cancer site
If ignored without treatment for a long time, cancer may spread to sites like other bones or lung and cause symptoms like cough, breathlessness, blood in sputum or pain. At this stage there is a serious risk to life
Does bone cancer happen to children?
Yes. Unfortunately bone cancers often occur in children and young people.
Can bone cancer spread from person to person?
No, bone cancer is not contagious and cannot spread.
What tests are needed to treat bone cancer?
Clinical examination by a skilled cancer doctor is the first step to diagnose bone cancer. This is followed by tests which may include:
X ray
CT or MRI scan
PET scan
Biopsy is usually compulsory before treatment of bone cancer. Biopsy is safe if done by an expert.
Is bone cancer curable? Is specialist bone cancer treatment available in Delhi India?
Bone cancer is curable. Specialist treatment of bone cancer is available in Delhi, India. More information

How is bone cancer treated?
Bone cancer is generally treated with two main modalities:
Additionally, selected patients may benefit from:
BONE CANCER IS A RARE CANCER AND SHOULD BE TREATED ONLY UNDER A BONE CANCER EXPERT. INAPPROPRIATE TREATMENT CAN DRASTICALLY REDUCE OR ELIMINATE THE CHANCE OF CURE
What is limb salvage surgery?
Limb-salvage surgery is a special kind of bone cancer surgery that removes the tumor without losing a limb. It is available under expert doctors in Delhi, India.
What is the benefit of chemotherapy for bone cancer?
Chemotherapy has two main benefits in bone cancer:
It reduces the size of tumor and allows easier surgery, potentially allowing limb salvage surgery
It increases cure rates (For example, cure rates of localized ewing sarcoma increase from 20% to almost 75% with chemotherapy)
These two reasons make chemotherapy an important part of bone cancer treatment. Bone cancer chemotherapy is not toxic and usually has a low risk of serious side effects. Learn more here.
What is bone cancer targeted therapy?
Targeted therapy is a very special kind of cancer treatment that affects only cancer cells and leaves normal cells intact. It is used only in selected bone cancer patients.
What is bone cancer immunotherapy? Is cancer immunotherapy available in Delhi, India?
Immunotherapy is a unique way of treating bone cancer that uses the body's own immune system to kill cancer cells. It is thus distinct from almost every other way of treating cancer. Immunotherapy is an area of active research in bone cancer and currently only for highly selected patients. Bone cancer immunotherapy is available in Delhi, India. Learn more.
What is the cost of bone cancer treatment in Delhi India?
Multiple treatment options are available for bone cancer. Consultation with a bone cancer specialist in Delhi can help in planning the best possible treatment at most economical price. Often an expensive modality may give just as good a result as a cheaper one. In this case an expert ethical doctor can help avoid unnecessary expenses.
Why is it important to consult a bone cancer specialist in Delhi, India?
Delhi is one of the best cities in India for bone cancer treatment with availability of expert doctors, sophisticated surgery and international-level chemotherapy and immunotherapy. Dr Vineet Govinda Gupta is an AIIMS gold medalist Medical Oncologist with over 12 years of experience in the top medical institute of India. He received several international awards and published internationally-recognized research.
More information on availability
I want to learn more about bone cancer treatment in Delhi, India!
You can access more information using various sections of this website. Some common topics of interest are linked below. For other topics you can use the menu above or the search box. If you cannot find your topic of interest, you can send me a free E-consultation using the form below.
Free E-consultation from Bone cancer Specialist in Delhi, India
If you have additional questions not answered by the above section, use the form below to send me your queries and we will get back to you shortly. You can also Email me at vineetgovindagupta@gmail.com. or whatsapp me at +919013812875